You've heard of Messy Church, but what about Muddy Church?  Trust funding has enabled the second phase development and trialling of a new outdoor approach to church for children and families.
In September 2018 Wendy Coleman (Children and Families Minister) and previous Rector, Revd Canon Imogen Nay, trialled a monthly Muddy Church programme, providing an All-age connection with God through exploring the natural world together.  It was apparent this offered an accessible and informal way to deepen relationships and grow disciples.  Wendy writes:
'We recognised the ideas behind Asset Based Community Development in the Muddy Church approach and saw it enabled greater participation in planning.  A vision emerged that all of the children's ministry could be based in, and blossom from, Muddy Church and we sought funding to research and develop this id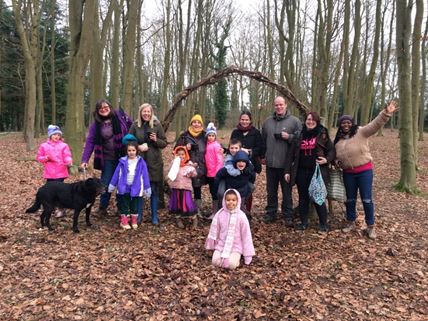 ea.
Since the initial events, Muddy Church has grown in idea, and into new spaces.  With social distancing a key priority during covid-19, Muddy Church has evolved 'Worship in the Garden' (taking place in the garden at the back of church) where each family is given their own Tarp tent, resource box containing a Godly play story, wondering questions and response resources.  The Muddy Church families who do not normally attend our Sunday morning service were the first to sign up to this, suggesting a bridge had been built.
Over recent months
our Muddy Church team has been able to offer support and advice to people around the country looking at ways of beginning Outdoor Worship'.
Muddy Church: An Introductory Guide (Grove Spirituality S164, Grove, Cambridge, 2023) is available to purchase here.
You can join the conversation about Muddy Church on their Facebook page here.  You can also see some Muddy Church videos here: