Challenging Religious Issues:
Supporting Religious Studies at A-Level and Beyond
St Peter's Saltley Trust is delighted to be part of a three year partnership with the St Mary's and St Giles' Centre to support the publication of Challenging Religious Issues –  a free, open access online journal designed to support teachers and students engaged in A-Level Religious Studies.  Challenging Religious Issues is designed to bring recent and relevant scholarship and research from the University into the A-level classroom. Three issues are published each year, in English and Welsh, and each issue contains four original articles.
Articles cover curriculum topics within A-Level RS/Philosophy and Ethics and are written in an accessible style by specialists in their field – including academics and RE teachers.  Each article contains a link to syllabus specifications, a glossary of unfamiliar terms, references for further reading and questions for discussion.  Issues from late 2017 appear below (English and Welsh versions available).  Both current and previous issues of Challenging Religious Issues are available from the St Mary's Centre website, here.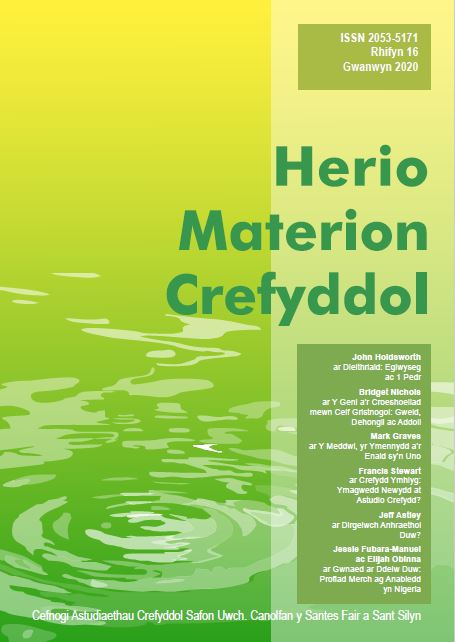 Challenging Religious Issues – Issue 16 – Spring 2020
John Holdsworth on Aliens: Ecclesiology and 1 Peter
Bridget Nicholls on The Nativity and Crucifixion in Christian Art
Mark Graves on Mind, Brain and the Unifying Soul
Francis Stewart on Implicit Religion
Jeff Astley on the Ineffable Mystery of God
Jessie Fubara-Manuel and Elijah Obinna on Made in the image of God: Experience of a Woman with Disability in Nigeria
Challenging Religious Issues – Issue 15 – Autumn 2019 – Special Issue on Science and Theology
Adam Willows on Technology and Human Nature
Jeff Astley on Evolution and the Argument from (or to) Design
Andrew Village on Stewardship of Creation
David Wilkinson on Thinking about the Human in a Universe of Aliens
Timothy Wall on Is Creation Complete? A Critique of Continuing Creation